Whoopie Pies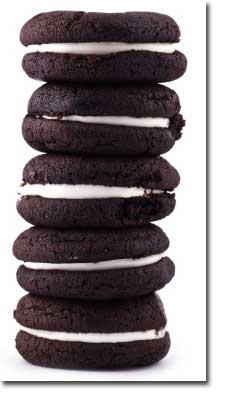 Chocolate Whoopie Pies
with Marshmallow Filling
Whoopie Pies are gaining popularity all over the United States. What was once a homemade treat found only in Maine and the Pennsylvania Amish Country is now sweeping the nation. You can find Whoopie Pies that are made from fresh ingredients at Mook and Pop's Culinary Delights. >> click here to order (or visit us at the Hillcrest Farmers' Market.)
What is a Whoopie Pie?
Where did it come from?
Whoopie Pies are gaini
A Whoopie Pie is really not at all like a pie. It is a simple dessert that is made of two cake-like cookies with a cream center, which looks more like a sandwich. The "original" Whoopie Pie is the chocolate Whoopie Pie with a marshmallow cream filling. To make one of these delicious treats, you start with two round, dome-shaped chocolate cookies that are soft and moist with a cake-like texture. Powdered cocoa enhances the dark chocolate color and flavor; the addition of buttermilk contributes to their moist texture.
It is believed that the first Whoopie Pie was made in the 1920's. Whoopie Pies have their origins in either the Amish country of Pennsylvania or in New England. Residents of Pennsylvania believe that when the Amish children at school, or when the farmers opened their lunchboxes, and saw the surprise of Whoopie Pies for a treat, they yelled "whoopie" in excitement of receiving this scrumptious dessert. Wherever it came from, one thing is for sure: it is a wonderful dessert!
Mook and Pop's Culinary Delights' main culinary goal is to bring fond memories of your favorite childhood baked goods. and are now making a variety of Whoopie Pies.

The most popular Mook and Pop Whoopie Pies:
The original: chocolate with marshmallow filling
Pumpkin with cream cheese filling
Whoopie Nuggets
Our newest creation is Whoopie Nuggets, where the fillings have chunks of nuts, candy or any other perfect morsel of goodness.
Where can I get Whoopie Pies in San Diego ?!?!
Mook and Pop's sells fresh Whoopie Pies made with natural, old-fashioned ingredients at the Hillcrest Farmer's Market, - or - local San Diego residents can order online and have your baked goods delivered to your doorstep or ready for pick up at the Hillcrest Farmers' Market. You can also get them from the Sweet Treats food truck.